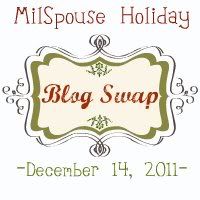 Its Christmas time and Wife on a Roller Coaster is hosting a blog swap! Today I'm over at
Goodnight Moon's blog
rambling there and Julie from
Soldier's Wife, Crazy Life
is here.
Julie is sweet as can be, she's a mama to three little boys, photographer, coffee drinker, blogger & Independent Scentsy Consultant, which by the way is awesome! Enjoy her post and don't forget to come find me!
I am not sure why I remember this Christmas so well.
Maybe it was because my uncle brought his video camera and taped it and it was the first time I had ever seen a video of our family. Maybe it was because it was such a special time. I am not sure. But the Christmas of 1986 really sticks out in my mind.
I was almost eight years old and this year my Grandparents came into town from Arizona and my Aunt and Uncle came in from Colorado. For Christmas Eve I remember going to church, coming home and having some sandwiches and then opening one gift. I can't quite remember the gift, just that we got to open one before bed that night.
The next morning we woke up and had a wonderful Christmas with family. We always took turns with gifts. You had to wait until each person opened a gift before it was your turn again.
My Grandpa thought he was funny for going extra slow when it was his time to open a present. The only gifts I remember about that year were a magic set for me and a basketball hoop for my brother. After all the gifts had been opened we all went outside to watch my magic show.
You see in other parts of the country you might go outside to build a snowman. In CA you go outside to enjoy the weather.
I still remember sitting on the grass and putting on a show for my family. Then my brother and I played with the basketball hoop.
I remember eating Christmas dinner, going on a walk with everyone and even my Aunt making a mix of

7up

and Cranberry juice.
We don't have Christmases like this anymore. In 1993 my Grandpa passed away and about the same time my Grandma was diagnosed with Alzheimer's Disease. After that things were just different.
Every time I think back to a happy Christmas memory I remember the Christmas of 1986 and all the memories I have of that time with my family.
Thanks to Julie for swapping with me!